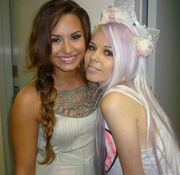 Skyscraper is a song performed by Demi Lovato, and it was co-written by Kerli.
Composition
[
]

I actually pulled up a picture of a skyscraper that stood tall in the middle of the world in ruins..it was a picture of the apocalypse so we actually wrote it after a picture. The first beams of sun were shining though the dark clouds. It was all about to begin anew.
[1]
Skyscraper is a pop ballad in which Lovato showcases breathy, quivering and powerful vocals. In the first verse, Lovato is only accompanied by a lonely, pulsing piano as she sings, "Skies are crying, I am watching catching teardrops in my hands/ Only silence, as it's ending, like we never had a chance". As the song progresses, the piano is accompanied by heavy percussion and breathy backing vocals. In the chorus, Lovato sings, "You can take everything I have/ You can break everything I am/ Like I'm made of glass, like I'm made of paper/ Go on and try and tear me down/ I will be rising from the ground like a skyscraper". In the second verse, Lovato "begins to find more strength".
The song has a simple musical structure. According to the sheet music published on Musicnotes.com by EMI Music Publishing, the song is set in common time with a metronome of 104 beats per minute. It is composed in the key of G major with Lovato's vocal range spanning from the note of G3 to the note of G5.
Lyrically, the song represents staying strong and believing in yourself. According to Lovato, the song's lyrics symbolize her personal journey from where she used to be to "the happy healthy person [she is] today". The song deals with the difficulties Lovato had been through the past year and overcoming the obstacles she faced. With the song, Lovato hopes that "people are able to relate to it and realize that they are able to rise above and overcome any obstacle, no matter the circumstances and shine like a skyscraper".
Commentary from Kerli
[
]

It's funny with music sometimes cause u write a song and u don't know where it travels and who it will touch. She has been through a lot lately and this song is like meant for her. She nails the vocals to the point where I don't even wanna listen to my own version:) And more importantly - she has so many young people following her story and I know this song is gonna inspire them and make them see that even if you're at the worst point of your life, you can still get up and overcome anything. I really think that artists are story tellers and are here to deliver a message and there's no better person that I can think of right now than her to deliver that very story. So although I did write this song for my album, it's really her song. She nails it, she owns it. I am just the Santas little helper here.
[2]

...I'm so happy Demi is doing it cause of what she's been through this past year - I can't really compete with how powerful her journey and that song are gonna be together. It was totally meant to be her song.
[3]

Yes, I did co-wrote ["Skyscraper"] for [Demi Lovato]. She's incredible on it. This really was meant to be her song because of her journey.
[4]
Lyrics
[
]
Skies are crying, I am watching
Catching tear drops in my hands
Only silence as it's ending
Like we never had a chance
Do you have to make me feel like
There's nothing left of me?

You can take everything I have
You can break everything I am
Like I'm made of glass
Like I'm made of paper
Go on and try to tear me down
I will be rising from the ground
Like a skyscraper
Like a skyscraper

As the smoke clears, I awaken
And untangle you from me
Would it make you feel better
To watch me while I bleed?
All my windows still are broken
But I'm standing on my feet

You can take everything I have
You can break everything I am
Like I'm made of glass
Like I'm made of paper
Go on and try to tear me down
I will be rising from the ground
Like a skyscraper
Like a skyscraper

Go run, run, run
I'm gonna stay right here,
Watch you disappear
Yeah, oh
Go run, run, run
Yeah, it's a long way down
But I am closer to the clouds up here

You can take everything I have
You can break everything I am
Like I'm made of glass
Like I'm made of paper
Oh oh
Go on and try to tear me down
I will be rising from the ground
Like a skyscraper
Like a skyscraper

(Like a skyscraper)

Like a skyscraper
Gallery
[
]
References
[
]