I-Loo (pronounced EE-LOO) Alistair MoonChild is a bear first introduced in the Army of Love.
Origin
[
]
Kerli first showed the bear in an "Army of Love" vlog. After some questions on Formspring, it was decided that the bear would be the mascot for the Moon Children. Soon after, Vespertine designed a logo featuring the bear and it was posted by Kerli on Twitter.
Naming and "birth"
[
]
The bear received its name I-Loo after the name was chosen in a poll on iamamoonchild.net and the runner-up was its middle name, Alistair.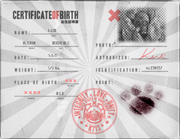 On the magical date of 1.1.11, In the [United] States of BubbleGoth, the sweetest baby was born. Made of Innocence, Starlight and rays of the Moon, he was brought to this planet to protect all the MoonChildren.
Kerli officially announced the bear's name on January 2, 2011.
Suggested names
[
]
This is a list of names that were suggested. The names in red were Kerli's favorites and were included in the final poll.
Gender
[
]
A similar poll was held for fans to decide on the bear's gender. Ultimately it was decided that I-Loo was a genderless alien with both aspects of femininity and masculinity incorporated into its personality and appearance. I-Loo is referred to with all gendered pronouns interchangeably.
Gallery
[
]
References
[
]