Poll
Which is your favourite single from Kerli's discography?
Featured content
Shadow Works
is the third mainstream studio album by Kerli. After scrapping the 2016/2017 album, Kerli decided to begin a new project. Via PledgeMusic her team announced that the first single
Savages
, of the new version of the third album, was be released on November 30, 2018, and the album on February 22, 2019.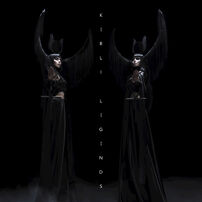 Legends
is a song recorded by
Kerli
, featured on her third studio album
Shadow Works
, and released as the third single off the album on February 8, 2019. The song's demo version leaked on May 26, 2013. However, Kerli heavily modified and changed the song's production to better fit the sound of
Shadow Works
.
Social
Quote
You are the vision I'm looking for
Make me remember all I forgot
Watch me become just an animal
Naked to nothing more than who we are
from
Feral Hearts
Affiliations
If you have anything to ask, please contact one of the Administrators.