BubbleGoth (sometimes written as "Bubble Goth" or "Bubblegoth" but more frequently written as "BubbleGoth" by Kerli) is style created by Kerli intended for use on Utopia.
"

I'm trying to find the perfect balance between light and dark, heavy and playful on my new album. The original Goth kids were very much into romantic things, art and poetry...so I'm trying to make my album like something of a modern day poetry with extravagant soundscapes that transport you into a different reality? RAWR!.

[1]

"
Happy. Twisted. Dark. Beautiful.
Something that is light, cute and wonderful but can be creepy and somewhat dark in appearance as well.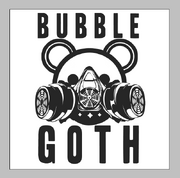 On December 13, it was suggested to Kerli via Formspring that the bear featured in a promotional photo for "Army of Love" should become a mascot. The following day, Kerli tweeted a photo that depicted a cartoon version of the bear featuring the writing "BubbleGoth" designed by Vespertine. The bear's name is I-Loo, but before it became the mascot, it was named Plus.[2]