Army of Angels is a song performed by Kerli.
Composition
Edit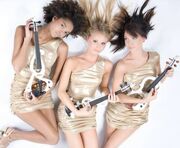 The violins in the song are performed by the all-girl Estonian electric violin band Violina, which consists of Daana Ots, Johanna-Marie Ainomäe and Käll Haarde.[1]
During everything in you life, all the happy times and all the sad times, there are angels walking by you. Every time you breathe, you get older, that is the most ironic thing about life... breathing actually kills you. I'm here as a friend to tell you that you are not wrong when you witness something beautiful beyond the comprehension of the people around you.[2]
Kerli introduced the song during her performance at Õllesummer in Tallinn, Estonia. She later released the studio version.
I've been watching you silently
Blind-fold, calming you violently
Feels like you're falling and there's
No one out there, no one out there

Sleepwalk wandering aimlessly, hands
Tied keeping you perfectly safe
No searching nor questioning
Follow me

An army of angels
We'll take you away
An army of angels
Prepare to invade
Don't be afraid
Your life starts today

Earth-quakes ending you quietly
Wake up turning you painlessly
When you're broken down hopelessly
Follow me

An army of angels
We'll take you away
An army of angels
Prepare to invade
Don't be afraid
Your life starts today

You live, you love, you cry
But you're not alone
You breathe to die
I'm here if you don't
Believe your eyes
When your world starts to change
It's real, you fly
You're not on your own

An army of angels
We'll take you away
An army of angels
Prepare to invade
Don't be afraid
Your life starts today

(An army of angels)
We'll take you away
An army of angels
Prepare to invade
Don't be afraid
Your life starts today
References
Edit